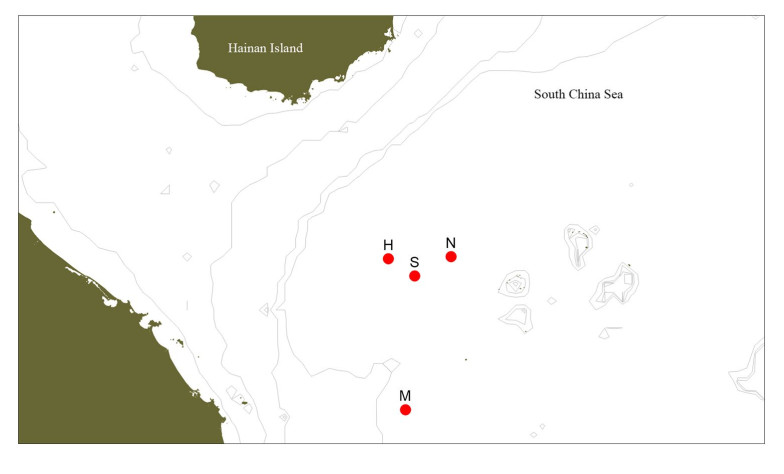 Results and discussion
Faunal composition and species list

A total of 41 species (Table 1) were identified to genus or species level from specimens either collected or observed in situ during the expedition to the slopes of Ganquan Plateau, the Haima cold-seep sites, and a mud volcano field. These comprise 16 species of Crustacea; 14 Mollusca; 4 Cnidaria; 3 Porifera; 3 Annelida and 1 Echinodermata (Figs. 3, 4, 5 and 6). Some other specimens that are pending identification may include undescribed taxa and therefore are not listed or reported here.

The investigation area of the southwestern slope of Ganquan Plateau has a variety of microhabitats. The substrate basically comprised boulders on steep slopes and flat rock on gentle slopes. In addition, a small cold seep at the foot of the plateau was discovered for the first time. Six macrofaunal species were identified based on the specimens collected from this area, including two species of sponges (Fig. 4a, b), one species of cold-water coral (Fig. 4d), and one gastropod species (Fig. 5g) which was associated with the sponge. Paraescarpia echinospica, a symbiotrophic tubeworm, was the only organism observed in the small cold-seep site within this study area.

The investigation area of the northeastern slope of Ganquan Plateau is characterized by flat and rocky slopes extending across a large area. Six macrofaunal species were identified in this habitat, including two sessile organisms (a Chonelasma sponge (Fig. 4c) and a Pseudochrysogorgia cold-water coral), a squat lobster of the genus Uroptychus (Fig. 6g) that was associated with the cold-water coral, and a Glycera polychaete associated with an unidentified sponge. A Cyrtomaia crab (Fig. 3j) was collected from an unidentified sponge, but nature of their relationship is not clear. One species of Palaemonella shrimp was observed in high abundance on the sea bottom.

Five cold-seep sites were surveyed during the expedition. Large areas of mussel beds (dominated by Gigantidas haimaensis) were observed at these seeps, which is a typical feature of an active seepage ecosystem (Feng et al. 2018). In contrast, patches of relatively small authigenic carbonate hardgrounds were common around these sites, indicating an early stage of ecological succession in some places (Feng et al. 2018). In total, 24 species were identified from the specimens collected at Haima cold seeps, and most were mollusks (13 species) (Figs. 3e, 5a-f, h, i) and crustaceans (seven species) (Figs. 3f, g, i, 6d-f, h, i). The large vesicomyid clam species Calyptogena marissinica, which was described first time by Chen et al. (2018) based on samples from the Haima cold seeps, was found and collected again by the corresponding author (Xinzheng Li) in the expedition of 2018. It is a very common species in the cold-seep areas. A red bloody fluid flows from freshly collected specimens of C. marissinica. This appearance is very similar to other species of the genus Calyptogena (Fujikura et al. 2012). The amphipod Eurythenes maldoror (Fig. 6d) and the isopod Bathynomus jamesi (Fig. 6e), both of which are opportunistic scavengers, were captured in cage traps. No coral species were observed in this habitat. The symbiotrophic tubeworm Paraescarpia echinospica, (Figs. 3d, 4g) occurred in small clusters surrounding authigenic carbonate rocks. The scaled polychaete Branchipolynoe pettiboneae (Fig. 4f) and the sea anemone Actinernus sp. (Fig. 4e) were very common within and around the cold-seep mussel beds.

A mud volcano field was newly found during the expedition, and its adjacent seabed was investigated. Here, a large area of flat rocks was present on the otherwise muddy seafloor, providing a hard substrate that harbored abundant corals. Eight species were identified based on faunal collections at this mud volcano field. One cold-water coral, Rhodaniridogorgia sp. (Fig. 3a), was identified from video images. Six crustacean species, including three species of stalked barnacle (Fig. 6a-c), were either collected or observed by video. A scallop bivalve of the genus Propeamussium was the only mollusk observed in this habitat.

Diversity and distributions of the major macrofaunal groups

Nearly all the sponges observed and collected during the expedition were distributed on rocky slopes of the Ganquan Plateau, whereas no sponges were found at the Haima cold seeps. Similarly, all cold-water corals were collected or observed on the slopes of Ganquan Plateau or at the mud volcano field, where the seafloor was largely composed of boulders or continuous flat reefs, respectively. This is in line with the sessile lifestyle of these two animal groups. Two anemone species were observed in the cold-seep habitat: Actinernus sp., which was present in high abundance attached to empty shells, and a species of Hormathiidae, which was found on the seafloor adjacent to one of the seepage site.

Most of the mollusk and polychaete species were found living in the seepage area, where the seabed was mainly mud sediment, providing an ideal habitat for mud-preferring mollusks and polychaetes. High chemosynthetic primary production in cold-seep sites sustains a flourishing seepage community in which chenosynthetic-specialist mussels predominate with high biodiversity and abundance, typically forming large areas of mussel beds. At least eight chenosynthetic-specialist mollusks or polychaetes were collected during the expedition. Only two gastropod species, namely Tristichotrochus ikukoae and a species of Cancellariidae, were present on the slope of Ganquan Plateau, associated with a sponge and a cold-water coral, respectively.

Crusateans generally have a strong ability to move, which allows them to adapt to various deep-sea habitats. A high biodiversity of crustaceans was observed in this expedition. However, few species were shared among the four types of habitat, each of which had a distinct crustacean fauna. The rocky slopes of Ganquan Plateau supported plentiful gorgonians; coral-associated squat lobsters, such as species of Uroptychus and Sternostylus, were also very common. Additionally, the more complicated topographical environment attracted crabs which could shelter and breed under rocks and in gaps. The rocky substrate in the mud volcano area also provides a habitat for crabs and coral-associated crustaceans; solid rocks on an otherwise muddy seabed provided habitat for hole-dwelling species, such as the crayfish Metanephrops neptunus. By contrast, the cold-seep sites were colonized by species of squat lobster and alvinocaridid shrimp that are specialists in reducing habitats. Examples include Munidopsis lauensis and Alvinocaris longirostris, which are generally dominant in cold-seep communities. King crabs, acting as vagrant predators, were also very common in the cold-seep communities.

Members of the Echinodermata constituted an important part of the overall faunal biodiversity of the Haima cold-seep areas. However, the taxonomic identity of these animals was difficult to determine and only one species could be identified to genus level. Ophiuroids (brittle stars) were the most diverse subgroup and were observed in high abundance in the cold-seep assemblages. They included species of Histampica, Ophiacanthidae, and Amphiuridae. Conversely, species of Euryalidae were associated with gorgonians at Ganquan Plateau, and some species of Ophionereididae, Ophiuridae and Ophiacanthidae were associated with sponges. A species of sea cucumber, probably belonging to the Chiridotidae, was common in and around cold-seep sites. Sea urchins were scarcely observed, but one large-sized individual representing a species of Echinothuriidae (Fig. 3l) was captured on the muddy seabed beside a mussel bed.

Preliminary description of community structures and faunal comparison

The community structure of a cold-seep habitat can be influenced by many factors, such as depth, seepage type, and gas composition. Many studies have focused on endobenthic fauna assemblages (micro- and meiobenthos) to quantitatively evaluate their communities in different cold-seep habitats (e.g., Bourque et al. 2017; Cunha et al. 2013; Levin et al. 2015; Washburn et al. 2018).

Although nearly half of the taxa reported here have not been identified to genus or species level, this investigation lends preliminary insights into the community structures of the different types of habitat explored during the expedition. Accordingly, the Ganquan Plateau slopes, characterized by hard substrates, were colonized by high numbers of cold-water corals and sponges along with their associated crustaceans and ophiuroids, revealing faunal community structures similar to those at seamounts. To a large extent, it was the abundance and biodiversity of sessile invertebrates, rather than motile animals, determined the overall epibenthic community structure in these rocky habitats. However, the southwestern slope of Ganquan Plateau, which is deeper and nearer to the Haima cold seeps than the northeastern slope, had a cold-seep microhabitat site; therefore seep-associated faunal species, such as the tubeworm Paraescarpia echinospica, were present. The Haima cold-seep faunal assemblages on the muddy seabed revealed typical seepage communities, composed of species that are specialized for life in reducing habitats and opportunistic predators but devoid of cold-water corals and sponges. The mud volcano field, characterized by flat reefs on an otherwise muddy seafloor, shares some community characteristics with the Ganquan Plateau slopes. However, no seep-associated organism was observed in the mud volcano field, probably because the gas release there is less intensive than that in cold-seep sites and thus does not support a chemosynthesis-based assemblage.

The epibenthic community structure of the Haima cold-seep field is distinct from that of Site F in the northeastern South China Sea (southwest to Taiwan Island). Site F is notable for its Gigantidas platifrons-Shinkaia crosnieri community, in which the mussel G. platifrons and the squat lobster S. crosnieri thrives in high abundance (Li 2015, 2017). The Haima cold-seep field, which is approximately 1000 km from Site F, was nearly devoid of S. crosnieri and has low occurrence of G. platifrons, with G. haimaensis being the dominant mussel species. Likewise, siboglinid tubeworms were common in the Haima field but scarce at Site F. The squat lobster Munidopsis lauensis and the alvinocaridid shrimp Alvinocaris longirostris were common at both cold-seep areas. The community structures at the Haima cold-seep field and the Site F are depicted in Fig. 7. At first approximation, the community structure at Haima cold seeps are roughly similar to that of chemosynthesis-based communities in Sagami Bay (Fujikura et al. 2012), although the presence of the tubeworm Paraescarpia echinospica links the Haima cold seeps to chemosynthetic haibitats at the Nansei-shoto (Ryukyu) Trench. In contrast, the community structure at Site F is roughly similar to that of the hydrothermal vents in the Okinawa Trough owing to the Gigantidas platifrons-Shinkaia crosnieri assemblage (Feng et al. 2018; Li 2015, 2017). The cause of such differences between cold-seep communities is still unknown. In accordance with the fieldwork experiences of the corresponding author (Xinzheng Li) at Site F in 2013 and at the Haima cold seeps in 2018, the sulfide smell of the substrate samples from the Haima cold-seep areas was much stronger than that from Site F. This phenomenon may imply that there are differences in the substrate materials, concentrations of reducing compounds, or levels of redox potentials, caused by differences in primary productivities of chemosythetic microbes. Quantitative environmental data would be needed to verify this.

Figure 7. Schematic diagram of the community structures of the Site F cold-seep site (a) and Haima cold-seep field (b). a I, chemosynthetic microbes; II, flagship species, making up the landscape of the community, left, Shinkaia crosnieri, middle, Gigantidas platifrons, right, Alvinocaris longirostris; Ⅲ, top predator, Lithodes longispina Sakai, 1971. b I, chemosynthetic microbes; II, flagship species, making up the landscape of the community, above, from left to right, Gigantidas haimaensis, Calyptogena marissinica, Paraescarpia echinospica, indeterminate species of Chiridotidae; below, from left to right, Leptochiton tenuidontus, Bathyacmaea lactea, Histampica sp., Actinernus sp.; Ⅲ, top predators, Paralomis sp., even? Plicifusus sp.

Our future research will build on this preliminary taxonomic work, especially to (1) better determine community connectivity of epibenthic macroinvertebrates among different seepage sites in the South China Sea, and (2) reveal the factors that govern the community structures and ultimately determine the biodiversity at cold seeps. In conclusion, the cold seeps at both Haima and Site F merit further research, with comparisons based on more sampling and field observations, as well as comprehensive analyses that consider biological, chemical, geographic, and physical oceanographic evidence.
Reference (52)